The challenges of government and higher education are dynamic and unique. Maryville Consulting Group's Public Sector practice leads the way with a fresh perspective grounded in a proven approach.
Maryville provides a comprehensive portfolio of digital transformation services to help our Public Sector customers optimize the delivery of their mission. With 29 years of Digital Transformation experience and 12+ years in the Technology Business Management (TBM) space, Maryville has partnered with dozens of customers to develop and sustain enterprise wide TBM programs. We have successfully delivered over 300 TBM engagements for organizations across industries including state, county, and Federal government organizations to large Fortune 100 companies, allowing for identification and carry forward of best practices and insights across industry lines.
Maryville has been recognized as a top TBM services partner from leading TBM solution provider, Apptio, Inc., winning Services Partner of the Year for eight consecutive years and TBM Public Sector partner of the year in 2022.
Contract Vehicle
We can utilize relationships with existing agency vendors to create win-win subcontracting opportunities. Find us with Cage Code: 1L1L8 or Duns #: 868711532
Technology Business Management
Product Development and Delivery
Digital Strategy and Operations
Learn how Maryville Consulting Group is leveraging the Technology Business Management (TBM) Methodology to drive four recommended focus areas of technology modernization for the U.S. Government.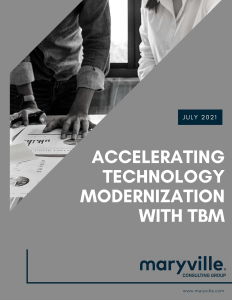 Our Work in Public Sector