The challenges of government and higher education are dynamic and unique, Maryville Consulting Group's Public Sector practice leads the way with a fresh perspective and approach.
We are a small management and technology consulting business with 25 years of experience in commercial digital transformation. We provide our clients with a comprehensive portfolio of transformation service offerings and capabilities that will enable the alignment of resources, reduction of risk, and optimized delivery of the mission. Our industry best practice experience, combined with the high caliber of our Public Sector team, uniquely positions us to be the premier digital transformation partner for Public Sector organizations.
Contract Vehicle
We can utilize relationships with existing agency vendors to create win-win subcontracting opportunities. Find us with Cage Code: 1L1L8 or Duns #: 868711532
Technology Business Management
Product Development and Delivery
Digital Strategy and Operations
Learn how Maryville Consulting Group is leveraging the Technology Business Management (TBM) Methodology to drive four recommended focus areas of technology modernization for the U.S. Government.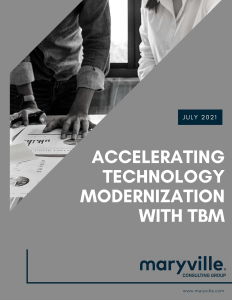 Our Work in Public Sector